Our Maximum Security Sharps Retrieval Program:
WALL MOUNTING NEEDLE DISPOSAL KIOSK
Puncture Proof Metal Cabinet
(in addition to Locking Metal Cabinet)
Overall: H18 in. x W8 in. x D4.5 in.
Security Tube: H6.5 in. x Dm1. 75in.
Box body: H12 in. x W8 in. x D4.5 in.
Item # 88-SFP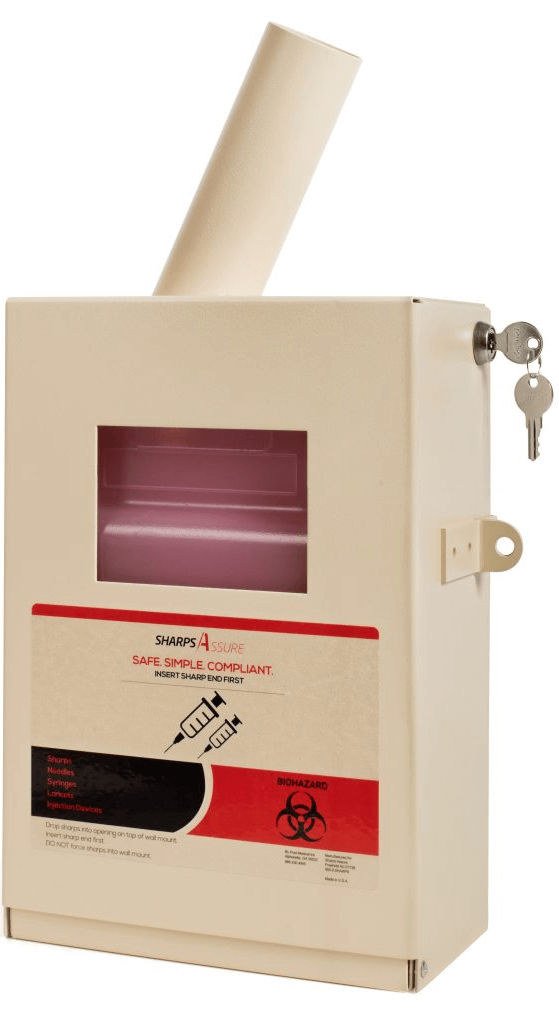 Made to keep unwanted hands out. This unit features a 6.5 inch needle drop tube that funnels needle debris into inner plastic sharps container for disposal. Double pad lock security in addition to a locking puncture-proof metal cabinet ensures that used sharps will remain secure in even the worst conditions.
The 1.5 Gallon Retrieval Program is suitable for prisons, public parks and other maximum security locations.
Available in a Single, Two pack, and Intro Kit
SA 150GU- 1.5 Gallon Retrieval Program
SA 150GU2 - Two 1.5 Gallon Retrieval Program
SA 150GUI - 1.5 Gallon Retrieval Program, Maximum Security Cabinet